Hi all,
So this is my top 10 hits and misses for the 2016 Met Gala! Finally!! Lets get into it!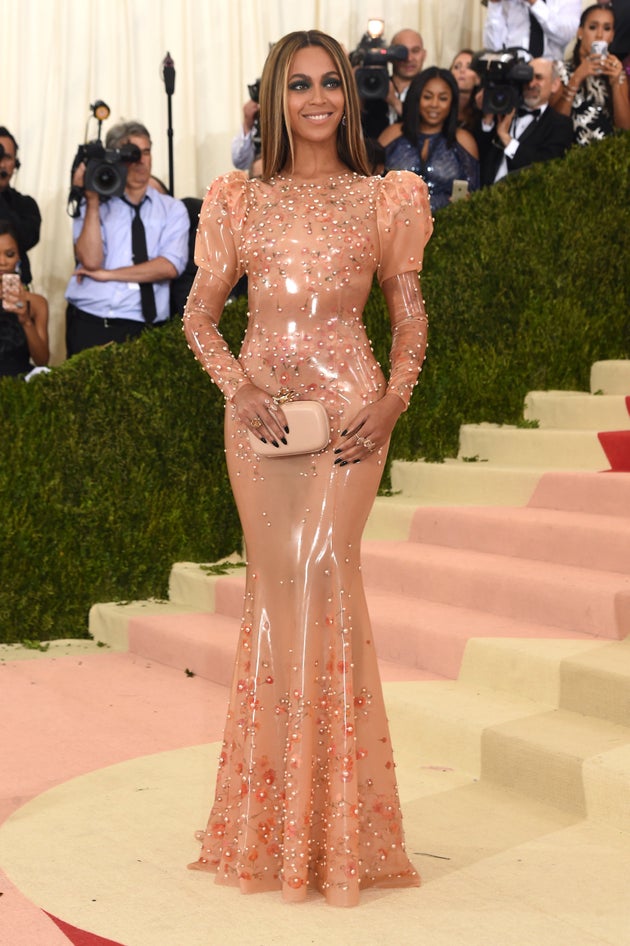 BEYONCÉ
In nude latex
Givenchy
Haute Couture custom-made dress with pearls and hand-painted flowers .
I love this color! I don't like the latex so much but Im not a fan of latex outfits in general. I don't think this outfit in its shape and the effect they were after would work in any other form other than latex. I adore the shape of the outfit and it flatters her so well.
I am in love with the sleeves and hand painted flowers, they compliment this dress so well. It could have easily looked horrible with so much going on but its perfect and suits her!
I love me the Kardashions! I love how they cause so much of a stir with everything they do! I'm not a fan of Kim's makeup for this event,I think it makes her features look more masculine compared to her normal makeup look. With the outfit and its shape and material it needed to have a bold makeup look so it makes sense that they would go for that. The outfit itself is not my most favorite. I feel it doesn't suit Kim's body as well as it could,especially because she is all about her curves. It suits the theme though which I guess is the point? I would have liked the whole outfit to have the same material and I think it would have worked well that way, with a very fitted bodice and maybe no sleeves.

Kanye West... He fits into the Kardashion family so well. I don't think jeans were the right thing to wear in this instance but it did the get attention I think he might of been after. I like the eyes that he did! I know there's a lot of talk about his eyes and a lot of hate towards it but I actually really liked it!
Ok guys, I couldn't actually stop myself, the bottom three count as one...that is just the way it is.


KENDALL JENNER
In Versace.
I really like Kendall Jenner. In general I feel her fashion is very understated and that she does not worry to much about things. As a model she can hold herself really well and knows how to show of an outfit . I'm not a fan of this on her, I feel the cutouts don't flatter her at all and make her look more thin! She doesn't need to look more thin!
KRIS JENNER
I feel this is to much black in one outfit! Can't believe I said that! Even just a pop of color would be really good to add to this to break it apart a bit. Kris tends to wear a lot of black (which is fine) but she has black hair and sometimes I think the black doesn't play in her favor and makes her look really Gothic.
Kylie
In Balmain
I don't like her makeup! She wears to much makeup! She is so pretty and all the makeup makes her look a lot older than needed. As a lot of people say she needs to embrace her youth because it goes so fast! Her outfit maybe would have suited Kendall more I think color wise but I don't like it in general, what's with all the skin showing people!
KATE HUDSON
In Atelier Versace and Giuseppe Zanotti shoes
I love Kate Hudson! She is so pretty and I've always wanted her hair! Her makeup always looks great and she seems confident! I like the style of her dress as it really suits her and is flattering to her body type. I'm not a fan of the pattern/sheer cutouts though. I feel it makes the dress look less high end more we made a mistake . it suits the theme of this year's gala well. The sweetheart neckline is beautiful!
LADY GAGA
The shoes! Oh my! I would love to see how Lady Gaga walked in them, she will be used to the height I'm sure based on her previous shoe wearing but her shoes always amaze me, there always interesting and beautiful! I really enjoy her outfit choices most of the time (apart from the meat dress) and this one is no exception. It screams lady Gaga. She 100% has the confidence and body for this outfit and I bet she rocked it well! I don't like the hair...its not my cup of tea but go Lady Gaga!
LORDE
Since Lorde is from NZ and so am I the silent rule is that I should like her, and I do, I like her music,I like that she's a kiwi making it big and living her dreams. I don't like this dress, I almost don't believe it's Valentino! I know I won't like every single outfit a designer will make but seriously!?! I don't think the low neckline flatters her at all, I wouldn't actually mind her more covered up! She doesn't need to show that much chest in this outfit, she's not about skin and sex appeal,right? Then the rainbow tulle....one color would be fine or an intense rainbow of colors might even be interesting . this looks like it went through the washing machine with some random colors of socks and the color transferred.
EMMA STONE
I like this! I don't mind the amount of skin Emma is showing at all! I think it depends on the body type but also the shaping the designer uses on the cutouts. It can totally change an outfit. The corset around her stomach shows of that she's slim but not crazy skinny and the length and slit on the skirt makes her look very sleek and tall. I really do enjoy this outfit! And it really compliments the color of her hair!
SOLANGE
In David LaPort.
Oh my goodness. This is awful! Yes it makes a statement,yes it will definitely have people talking , yes it will make your brand noticeable. But why!!!!!
KRISTEN STEWART
In Chanel and Repossi jewelry.
Ok, so I really am not a fan of Kristen Stewart at all...never have been really. But that is more me personally than anything , she seems like a good actress just not my cup of tea. Anyway, I do not like her outfit. For Chanel I did not think this reflected there brand well. I think if it was a different fabric and pattern it could possibly look ok but its just not flattering for her and maybe for no one. Just sayin.
TAYLOR SWIFT
In Louis Vuitton.
Taylor swift is one of my idols, If i could pick a celeb squad I think she would most likely but my number one choice. She has an amazing body and is really starting to show it off! I thought with the amount of skin she is showing I wouldn't like this outfit as much but its very flattering to her body and also suits her most recent style well. And omg the shoes! I adore the leg straps!
SELENA GOMEZ
In Louis Vuitton.
I would have loved to have seen Selena in something else. This to me is just to simple of a look for her. Its just more of a weekend/casual type of outfit. I have seen her in many other outfits that I really enjoyed a lot more. I do not mind the corset type of piece at all, I think its the pattern and shape of the dress itself. Although she has over the last few years worn very sexy outfits maybe this is new post health scare Selenas style? and if so , that is ok!
That is all for now, sorry for the delay in getting this up! Fingers crossed I win the lotto and can do this instead of working! ha ha ha
xoxo
Felicity